–Don't forget! The Summer Doldrums contest – It's fun to share your stuff!–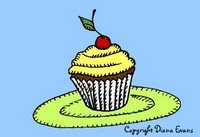 Coming tomorrow, the second installment of the Dabbled Interview Series: Diana Evans, an artist and illustrator and prolific blog proprietress from Ontario, Canada. Be sure to check it out!
And a big thank you for the feedback on my the Art Portfolio made out of Blogger blog — I've made some changes based on your feedback, check it out!! dorsner.blogspot.com (if you still want to see the original flash component that was on the front page, click on the link under the current one. Several people found the first one confusing.) Feedback is more than welcome, it is begged for! :)
Is there interest on a tutorial on the Baby Elepurse?
Now for the winner of the Shrinky Dink Test Lab comment contest!
from random.org..
Random Integer Generator
Here are your random numbers:
51
Timestamp: 2008-07-15 17:55:55 UTC
This means that lindsey is the winner of a collection of the experiments! Lindsey, please email me to claim your prize. (dot at dabbled.org)