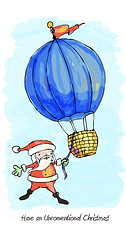 VOTING BEGINS: 12:00 noon Wednesday 12/10/2008 (NOW!)
VOTING ENDS: 12/14/2008
Get out the vote for yours or your favorites! Link back to here or use the button below.
1 Building a snowman from Brian H
2 Animated e-card from art by andy
3 3D Sleigh from cheeky magpie
4 Santa on a scooter from christine grove
5 Hip for the Holidays from Peter Breese
6 Keep Me Warm in the Snow from Carolineickle
7 Santa and the Yeti from Bella Sinclair
8 Snowman Family from Diana Evans
9 I Don't Do Jingles from Mocando
10 Red Balloons and Green from Bill Nagel
11 Goose and Girl from Mamaliga
12 Santa and Dogs from Amy Cartwright
Get out the vote for your holiday card… Just copy and paste this HTML to add this button! Or link to https://www.dabbled.org/search/label/holiday08card.